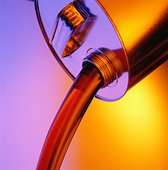 OPEC calls emergency meeting as oil prices fall
.
Oil prices dropped below $70 a barrel for the first time in 14 months Thursday, prompting the OPEC cartel to call for an emergency meeting next week to establish some stability in prices that have plummeted recently after rising for months.

Oil prices have tumbled by nearly $40 a barrel in just three weeks as indications grow that demand for energy will slow along with weakening economies around the world. As recently as July, oil was trading at a record of $145 a barrel.

The decline in oil prices could provide a form of stimulus to the global economy as consumers pay less to fill up their tanks. If oil prices stay at current levels, American consumers would have $250 billion more, over a year, to save or spend elsewhere, according to Lawrence Goldstein, an energy economist. Some analysts expect oil prices to keep declining, perhaps to as low as $50 a barrel in coming months.

Americans will probably see lower energy bills this winter, as gasoline and heating oil futures also dropped sharply on Thursday. Gasoline prices now average $3.08 a gallon, or 3.8 liters, down from a summer peak of $4.11 a gallon, according to AAA.
Must be peak oil.