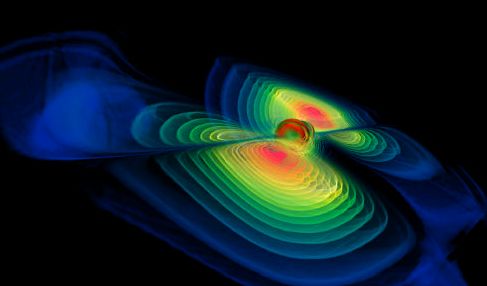 This is too funny. These idiots think that gravity makes noise and that the sounds can be detected. More than that, they say space (nonbeing) and time (tic-toc?) make noise as well. Do you have your tinfoil hat ready? Forget the
Electric Universe
. I offer you the Holographic Universe:
Holographic Universe: Discovery Could Herald New Era In Fundamental Physics
.
Craig Hogan, a physicist at Fermilab Centre for Particle Astrophysics in Illinois is convinced that he has found proof in the data of the gravitational wave detector GEO600 of a holographic Universe – and that his ideas could explain mysterious noise in the detector data that has not been explained so far.

The British-German team behind the GEO600, which includes scientists from the School of Physics and Astronomy's Gravitational Physics Group, will now carry out new experiments in the coming months to yield more evidence about Craig Hogan's assumptions. If proved correct, it could help in the quest to bring together quantum mechanics and Einstein's theory of gravity.

In order to test the theory of holographic noise, the frequency of GEO600´s maximum sensitivity will be shifted towards ever higher frequencies. The frequency of maximum sensitivity is the tone that the detector can hear best. It is normally adjusted to offer the best chance for hearing exploding stars or merging black holes.

Even if it turns out that the mysterious noise is the same at high frequencies as at the lower ones, this will not constitute proof for Hogan's hypothesis. It would, however, provide a strong motivation for further study. The sensitivity of GEO600 will then be significantly improved by using 'squeezed vacuum' and by the installation of a mode filter in a new vacuum chamber. The technology of 'squeezed vacuum' was particularly refined in Hannover and would be used in a gravitational wave detector for the first time.

Professor Jim Hough of Glasgow University, one of the pioneer developers of gravitational wave detectors, says: 'Craig Hogan made a very interesting prediction. It may be the first of a number of unexpected possibilities to be investigated as gravitational wave detectors become more sensitive.'

Professor Bernard Schutz, Professor at the School of Physics and Astronomy, member of the Gravitational Physics Group at the School, and recently elected as an Honorary Fellow of the Royal Astronomical Society said: "It would be truly remarkable if GEO600 is sensitive to the quantum nature of space and time. The only way to confirm that would be to carry out controlled experiments, the results of which can be solely attributed to holographic noise. Such an experiment would herald a new era in fundamental physics".
Indeed. Or a new era of insanity.