In my TV watching days (before my brain was developed) I used to watch reruns of popular "sitcom" shows like
Gilligan's Island
.
Just sit right back and you'll hear a tale, a tale of a fateful trip, that started from this tropic port, aboard this tiny ship. The mate was a mighty sailin' man, the skipper brave and sure. Five passengers set sail that day for a three hour tour. A three hour tour.
OK. A 3 hour tour is believable. So what about a 3 year tour with no water? But not by humans. I'm talking about iguanas of course.
Can iguanas raft for 7,000 miles with no water and then mate on the other side?
Via Retardipedia:
Fiji Banded Iguana
.
These iguanas are believed to have evolved from green iguanas that rafted on debris across 7,000 miles of Pacific Ocean from South America some 13 million years ago.
The farthest I've seen is 200 miles. A 1 month journey with no water:
Rafting Iguanas
.
Incredibly, in September 1995, 15 green iguanas were swept out to sea after hurricane Luis blasted the island of Guadeloupe. The lizards clung for life to a mat of uprooted trees for some 320 kilometers (200 miles), until one month later they washed up on the island of Anguilla (an-GWI-luh). Local fishermen who spotted the iguanas surfing ashore were stunned.
So in other words, the trip to Fiji-Tonga would be a 35 month journey with no water.
Hmm,
maybe Hume was wrong about miracles after all
.
Or
maybe not
.
"Fiji's banded iguana
Brachylophus
is sister to the Californian iguanid,
Dipsosaurus
(Sites et al., 1996) and iguanas appear nowhere else in the Central or West Pacific." (McCarthy 2005)
"The most likely reason for the distributional pattern of... banded iguanas is not because of a conspiracy of local environmental circumstances that somehow prevented long term colonization of every other oceanic island in the world.... A more reasonable explanation is that the papers disputing the geological paleomaps and molecular clock assumptions are, in fact, correct." (McCarthy 2005)
Sites, et al.,
Character Congruence and Phylogenetic Signal in Molecular and Morphological Data Sets: a Case Study in the Living Iguanas (Squamata, Iguanidae)
, Molecular Biology and Evolution, Volume 13, Pages 1087-1105, 1996
Yoon, C.K.,
Hapless Iguanas Float Away And Voyage Grips Biologists
, New York Times, Oct 1998
Rivera, R.,
Rafting Iguanas
, Science World, Jan 1999
McCarthy, D.D.,
Biogeography and Scientific Revolutions
, The Systematist, Number 25, Pages 3-12, 2005
And speaking of TV watching, Season 1 of
The History Channel's The Universe is now available on Blu-Ray from Amazon.Com
.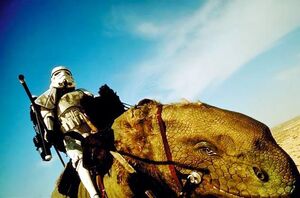 Oh and in case you can't get the stupid Gilligan's Island Theme Song out of your head, listen to
The Dune Sea of Tatooine
,
The Moisture Farm
, and
Landspeeder Search/Attack of the Sand People
by John Williams. It's good desert iguana music.