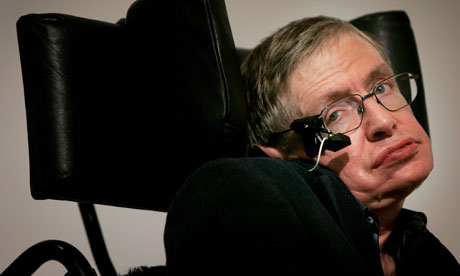 "Where wast thou when I laid the foundations of the earth? declare, if thou hast understanding." -- Job 38:4
"The extraordinary thing is that scientists accept the Big Bang and in the same breath deride the Creationists." -- Wallace Thornhill, physicist, date unknown
Guardian:
God did not create the universe, the man who is arguably Britain's most famous living scientist says in a forthcoming book
.
In the new work, The Grand Design, Professor Stephen Hawking argues that the Big Bang, rather than occurring following the intervention of a divine being, was inevitable due to the law of gravity.
Stephen Hawking says God did not create the universe. Dr. Hawking knows this because, after all, he was there. His magic wheelchair tells him so. The time machine built into his wheelchair allows him to travel back in time to the Big Bang that never happened, in order to observe the violation of conservation of matter and energy.
If you're skeptical of the fact Hawking has a time machine in his wheelchair then you're obviously unaware that he was also able to augur the flight paths of birds by using a crystal ball and a scrying bowl.
When he looked into the scrying bowl it said the following words: "There is no God."
And anyone can repeat this observation in the laboratory.
In his 1988 book, A Brief History of Time, Hawking had seemed to accept the role of God in the creation of the universe. But in the new text, co-written with American physicist Leonard Mlodinow, he said new theories showed a creator is "not necessary".

The Grand Design, an extract of which appears in the Times today, sets out to contest Sir Isaac Newton's belief that the universe must have been designed by God as it could not have been created out of chaos.

"Because there is a law such as gravity, the universe can and will create itself from nothing," he writes. "

Spontaneous creation is the reason there is something rather than nothing, why the universe exists, why we exist

.
Ah yes. Spontaneous creationism. How scientific.