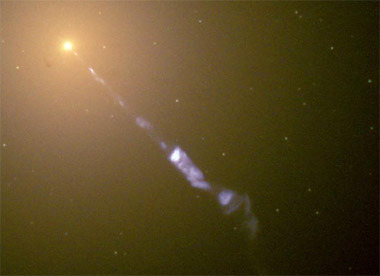 The holes are in their logic. Stephen Smith:
A Sea of Holes
.
A recent announcement by scientists from the Max Planck Institute has added another wrinkle to the fabric of black hole physics, the ejection of a "supermassive" black hole from its parent galaxy. Researchers in the department of Extraterrestrial Physics measured what appear to be gravity waves from the so-called "ejection event".

According to conventional cosmological theories, black holes are formed when a star with a mass approximately five times that of our sun uses up its thermonuclear fuel and collapses under the force of its own gravity. Because the equations that describe gravity can be manipulated in irrational ways, some solutions imply that such a large star can contract into a zero volume containing infinite inertial mass. Astrophysicists have contended for years that black holes are real and that their effects can be observed, although they are invisible to detection.

As the theories suggest, black holes possess a gravitational attraction of such intensity that not even electromagnetic radiation can escape the event horizon. Thus, no direct evidence of a black hole's existence can be measured, only the hypothetical effects of the extreme gravity. Such effects are said to be gamma ray emissions, x-rays and extreme ultraviolet radiation [note that all the effects are electromagnetic] from the gases and dust as they are compressed into smaller and smaller spaces before being drawn down into oblivion.

According to the team from Max Planck, gravity waves of colossal magnitude spread out from Quasar SDSS J092712.65+294344.0 as it ejected a few hundred million solar masses of gravitational energy from its nucleus. Gravity waves are another theoretical construct with no observational evidence to confirm their existence. They are inferred by the detection of broad-spectrum emission lines from the hot gas that surrounds the black hole – an indication of gravity waves compacting the gas as they ripple through the region. But is that what is actually happening?