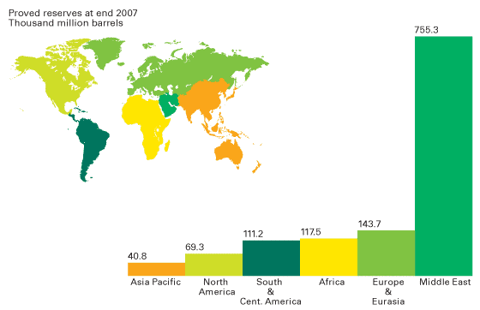 1,238 Billion Barrels of Oil Reserves
"We're not running out of hydrocarbons," insists Tony Hayward, the boss of BP, one of the world's biggest oil firms. To back up this view, he cites various comforting figures from the latest edition of the firm's "Statistical Review of World Energy," released today.

Enough oil has already been discovered around the world, Hayward says, to maintain consumption at current levels for another 42 years. As he put it, humanity has guzzled through 1 trillion barrels, but has its next trillion already lined up, and could probably unearth a third trillion if it really applied itself.
It's more like >225 trillion barrels of proven reserves.
Titan's Surface Organics Surpass Oil Reserves on Earth
.
Saturn's orange moon Titan has hundreds of times more liquid hydrocarbons than all the known oil and natural gas reserves on Earth, according to new data from NASA's Cassini spacecraft. The hydrocarbons rain from the sky, collecting in vast deposits that form lakes and dunes.
Transocean should change it's name to Transpace and start developing our natural resources.