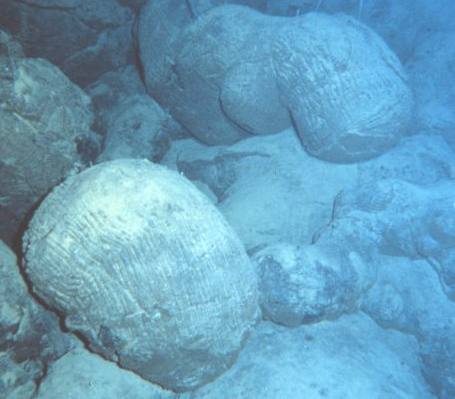 Basalt and andesite are the two most common igneous rocks of volcanic and magmatic origin. When a submarine volcano erupts underwater or flows into the sea, it forms basalt and andesite pillow lava.
In Mitov, Czech Republic, "solid bitumin," i.e. hydrocarbons, have been directly observed in pillow lava. This can leave no doubt, save in the mind (or lack thereof) of the most dogmatic biogenic fundamentalist, that hydrocarbons have a volcanic origin. However a biogenic origin is assumed without any evidence whatsoever based upon prejudice, ignorance, and a lack of education.
Evidence for fullerenes in solid bitumen from pillow lavas of Proterozoic age from Mítov
.
Andesitic pillow lavas containing biogenic, solid bitumen (SB) are a constituent of a Neoproterozoic volcanosedimentary sequence (Teplá-Barrandian unit, Bohemian Massif) in the Mítov area of the Czech Republic.
How can molten igneous Proterozoic pillow lava contain biogenic hydrocarbons? What evidence is there that the bitumin is biogenic? They just ASSUME it's biogenic because it's a hydrocarbon. Wouldn't the lava melt the bitumin if it were biogenic?
Fullerenes (C60) were observed in the "bitumin." Fullerenes have also been observed in Shungite which is elemental igneous carbon.
Unearthing Buckyballs
.
When Buseck and Tsipursky told Hettich that the rock had come from Russia and not a meteorite, he was somewhat surprised. "In the laboratory," says Hettich, "fullerenes are created in an atmosphere of inert gases, like helium, because common diatomic gases, like nitrogen and oxygen inhibit fullerene growth. This is why fullerenes are not found in ordinary soot, like that in household fireplaces. It seemed more likely to find naturally occurring fullerenes in meteorites, where interaction with these gases would be less of a problem."
It should be obvious that the geological source of helium for fullerene generation is in the mantle.
More recently, C60 and C70 have also been found in a sample of glassy rock from the mountains of Colorado. Known as a fulgurite, this type of rock structure is formed when lightning strikes the ground.
Maybe life started when lightning struck a mud puddle after all although
this has yet to be repeated in laboratory experiments
.
Busek, Tsipursky, and Hettich speculated in a 1992 paper that lightning strikes could provide conditions that are favorable for the formation of buckyballs.

The shungite fullerenes are notable not only for their earthly origin, but also because they may have been formed as solids--most laboratory-created fullerenes are grown in the gas phase. "This is the first example of solid-phase fullerene growth," says Hettich, "It has raised a lot of questions about how the rock was formed, how old it is, and how its composition may have changed over time. Because the shungite sample may be volcanic in origin, you can imagine conditions, like those in a volcano, that would be hot enough to form fullerenes and, at the same time, have little or no oxygen or nitrogen present. But right now, no one is sure exactly how these fullerenes were produced."

"This kind of discovery raises more questions than it answers," says Hettich, "but that's not necessarily a bad thing."--Jim Pearce
Thomas Gold On Geologists, Oil,& Volcanoes
.
What led you to think the liquids holding open these pores might be hydrocarbons left over from the Earth's creation?
Probably reading Arthur Holmes, who had written so many things that were egocentric expressions of opinion. He was the great father of geology - and still is - but I found his work quite shocking.

Shocking in what way?
Whenever he discussed some facts that were inconvenient, he would say that they should not be taken seriously, that it was purely due to chance. He far exceeded his information with the opinions that were mixed in - statements like, "Oil is not found in association with coal except accidentally, and not found in volcanic areas except accidentally." Look at the arc of Indonesia, from Burma to New Guinea: It's far more earthquakey than any other place we know. It makes lots of small, deep earthquakes, it's along exactly that belt that you have volcanoes - and you have petroleum along the whole of the line. "Never found in association with volcanoes except accidentally" - that's a hell of an accident.
Petroleum and Tectonic Map of Southeast Asia. The relationship of the hydrocarbon deposits to the geological area in whole, independent of geological age and rock type, is easily seen. A common chemical signature links these oils of diverse geological, but close geographical location. The relationship of the deposits to both mountain and volcano formation zones indicates upwelling hydrocarbons as the primary driving force for such diverse geological phenomena.