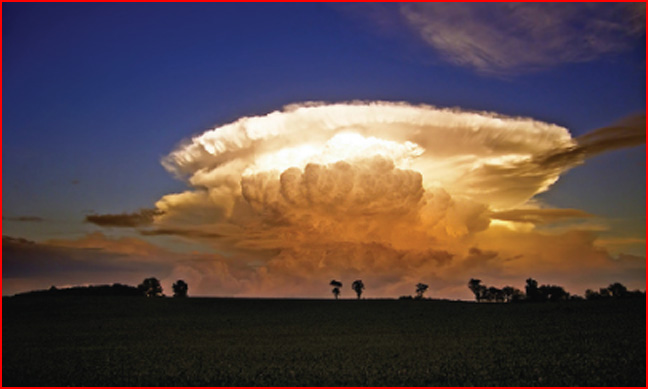 Stephen Smith:
Electric Clouds
.
Cloud formations often exhibit structure that could be the result of something other than blowing winds. Does ionized plasma actually shape the clouds?

"Thunderstorms are not electricity generators, they are passive elements in an interplanetary circuit, like a self-repairing leaky condenser. The energy stored in the cloud 'condenser' is released as lightning when it short-circuits. The short-circuits can occur either within the cloud or across the external resistive paths to Earth or the ionosphere. The charge across the cloud 'condenser' gives rise to violent vertical electrical winds within the cloud, not vice versa." --- Wal Thornhill, 2004

...

The Earth is an electrically charged body within the stream of ions permeating space and holds an electric field at its surface of 50 – 200 volts per meter. The electricity from space is carried by the barrage of ionic particles emitted by the sun as the "solar wind" and speeds along massive Birkeland currents through the circuit. Because water molecules are electric dipoles and are attracted to an opposite polar charge, such as that on another water molecule, they will clump together and align themselves within the Earth's "fair weather field". No "seeds" are necessary for water vapor to form clouds.

The electromagnetic field beneath a thunderstorm increases (up to 10,000 volts per meter) because it acts like a capacitor, storing energy from the surrounding environment. Observations have shown that a "wind" of charged particles blows toward the developing storm, which could be interpreted as a current flowing into the base of the clouds. The surrounding air is pulled along with the current flow and creates the powerful updrafts that sometimes rise into the stratosphere.

It might be the flood of ions into and out of clouds that is forming the "twilight zone" of unidentified particles that so mystifies the scientific community.