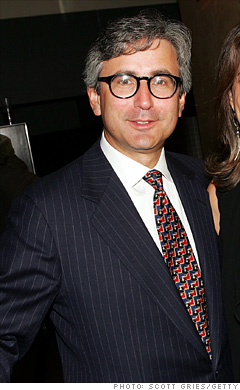 Above:
The Luckiest Man of 2008
(and smart too...
Johnny education
).
Thank God it's over:
Americans Under 70 May Find 2008 Was Their Least Favorite Year
.
Dec. 31 (Bloomberg) -- This wasn't just a bad year for the economy. By some measures, it was the worst year any American under age 70 has ever seen.

The loss of jobs in the U.S. may be the biggest since the end of World War II. This year's declines in stock and home prices haven't been exceeded since the Great Depression. The slump in holiday spending may set a record; foreclosures already have. Credit markets seized, halting the longest expansion in consumer purchases.

Europe and Japan also sank as U.S. demand faltered, marking the first simultaneous recessions since the Second World War ended. High-flying emerging economies, such as China and India, weren't immune, signaling the world economy is just as interconnected in bad times as in good.

"It was the year we wish it wasn't," said Harvard University professor Kenneth Rogoff, a former International Monetary Fund chief economist. "The global scale and magnitude" of the financial crisis and recession "is much greater than those we've seen before."

The National Bureau of Economic Research this month determined the U.S. economy had been contracting for 12 months, already the longest downturn in a generation, with no end in sight.

The length and depth of the slump leave even the most experienced economists at a loss for superlatives.

"We've never seen this before and we don't really have a sense of where the bottom is going to be," Nobel laureate economist Edmund Phelps, 75, said in a Dec. 23 interview with Bloomberg Television.

Housing's Collapse

Housing led the downturn. Sales of single-family homes dropped in November by 7.6 percent, the biggest decline in two decades, to an annual rate of 4.43 million, a 12-year low. A 13 percent decline in the median resale price from a year earlier was likely the largest since the 1930s, according to the National Association of Realtors.

The share of mortgages 30 days or more overdue hit an all- time high 6.99 percent in 2008, and the proportion already in foreclosure jumped to a record 2.97 percent, according to the Mortgage Bankers Association, whose statistics go back 29 years.

Problem loans morphed into toxic securities that brought down Wall Street banks and forced more than $700 billion in writeoffs worldwide this year. Bear Stearns Cos., which survived the 1929 crash, collapsed in March. Lehman Brothers Holdings Inc., founded in 1850, filed for bankruptcy in September. Merrill Lynch & Co. sold itself to Bank of America Corp. to avert a similar meltdown.

"There's no more Wall Street," Alan "Ace" Greenberg, former chief executive officer of Bear Stearns, declared in a Dec. 8 Bloomberg Television interview.