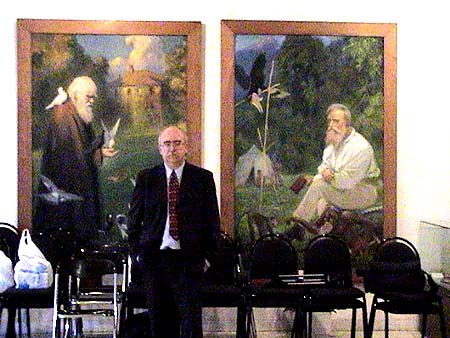 Michael Cremo on Coast to Coast AM
.
Q: If you had an opportunity to talk with Charles Darwin, if you lived when he lived, you had your theories; he had his. What would you tell him Michael? How would you switch him over?
A: Well, you know, it's kind of interesting. Some people tell me, maybe I'm a reincarnation of Charles Darwin and I've had to take birth again to correct my mistake. But you know actually I have a bit of respect for Charles Darwin because I think he's somewhat different than the people who have taken over his philosophy today and turned it into an ideology. You know he was, he was a very interesting person. He left university. You know, he didn't have a PhD. He didn't finish his undergraduate degree. He was trained actually in theology. That's what he was trained in. That's what he was studying at university. And he went on a voyage on the Beagle and he came to certain ideas about evolution but I think he was a genuine scientist in this sense that I think he would've been prepared to change his ideas. He admitted that there were some problems with his theories. For example, he admitted that the fossil record really didn't support his theories.
Q: And then he began to believe in God too didn't he?
A: Well yes actually. His book Origin of Species went into 6 editions. In the first edition he didn't say too much about God but in the second edition he said, in describing his theory, there is grandeur in this view of life where in the beginning the Creator (with a capital C) breathes life into one or a few kinds of organisms and let the rest evolve. Now there are two things that he says there. One of which I agree with and one of which I don't agree with. The first is that a Creator with a capital C some kind of cosmic intelligence was involved in the origin of life, which he says directly in his book and it's a big embarrassment for the evolutionists today who want to take God completely out of the picture. So it's a big embarrassment to them, but I agree with that part of what he said. I don't believe in his theory of evolution that he outlines in the rest of the book but I think he was a reasonable person. I think that if it was pointed out to him that after 150 years, because he wrote his book Origin of Species 150 years ago, it was published in 1859, I think if he were able to come today and see after 150 years that so much fossil evidence has accumulated that contradicts his theory, I think that he might be willing to change it. But for many of his supporters today, his theory is not so much a scientific idea, but an ideology which cannot be questioned. And it's people like that, you know, his supporters today, who aren't willing to listen to evidence that contradicts their theories, who have now a government enforced monopoly so that their ideas only can be taught in the education systems in most countries in the world including the United States, who really object to what I'm saying. I don't think Darwin himself would object to what I'm saying. I think he'd listen. And, I think, he would be willing to change his ideas in the face of evidence. But many of his supporters today, they don't want to hear evidence that contradicts their theory, they try to suppress that evidence, they try to restrict those who want to speak about that evidence.