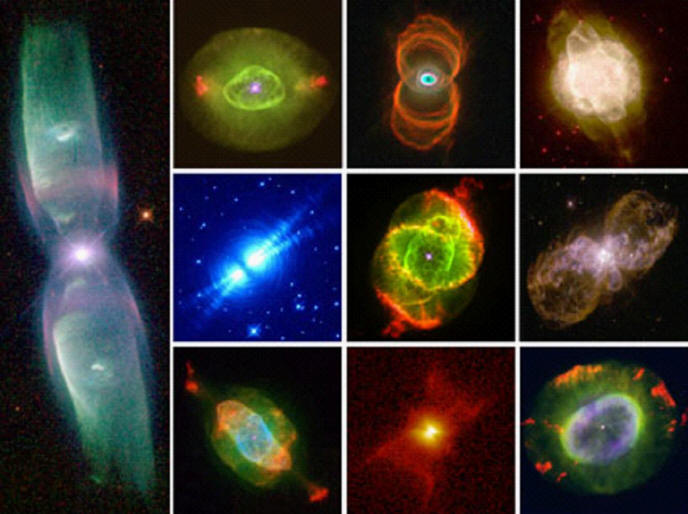 Mel Acheson:
Which Nebula is Real?
What is a theory? What is science? What is reality?

Doing philosophy is like sculpting fog. The abstractions to be investigated have ambiguous and shifting forms, and their traces are the vortices left by human thought in evening mists. Most scientists most of the time are well-advised to eschew it. It has little relevance for working within the boundaries of accepted theories.

However, the history of science shows that progress involves long stretches of development couched within boundaries that are interrupted by episodes of theory change. During the quiet times, accumulating data and modified ideas, along with new instruments and many other influences, push scientists toward the boundaries. They begin to trespass beyond them.

Outside the boundaries, the fog sculptures come alive and bite. Some theories go extinct; others proliferate and come to dominate the scientific ecosystem. Careers change. Textbooks are replaced. Grants go to other projects.

For the astrophysicist, an electron is a particle of matter with momentum that is described in part by Newton's laws. It goes "bump" in the night sky and causes shock waves and hot gas in planetary nebulae. The nebulae are explosions of stars that are burning themselves up with internal fusion fires.

For the plasma physicist, an electron is a unit of charge in an electrical current that is described in part by Maxwell's equations. It is part of an electrical circuit that causes planetary nebulae to emit synchrotron radiation, to show bipolar symmetry, to have hourglass shapes, to develop toroidal currents around the central star, to display polar jets, and to oscillate in energy output. The nebulae are z-pinches in galactic electrical circuits.

So what is an electron, really? What is a planetary nebula, really? As long as the two physicists stay inside the boundaries of their respective theories, the questions don't arise. The answers are presumed by each theory's axioms of what is real. The criteria of acceptability for each theory (What constitutes evidence? What constitutes an explanation?) don't apply to the other theory. Cross-theory debates can only end in pleonastic proclamations of what is "really real": "Is not!" "Is too!"

Outside the boundaries, the two theories meet in an evolutionary survival landscape: It's a jungle out there. Criteria of selection are extra-scientific. The question becomes one of market share. How many people are attracted by the promise of a new theory? How many become curious about things that a new theory might enable them to do? How many are bored with the old one and feel that its labyrinthine adjustments to novel data and ideas are a nuisance?

Philosophers worry about how there can be progress toward understanding a hypothetical ultimate reality when the history of science is a succession of contradictory theories, each of which was considered "real" in its heyday.

Progress can be understood in other than teleological terms: Biologists understand evolution as a bush that grows bigger at each season but has no "final form" that predetermines each season's growth. In the same way, the progress of science doesn't need the hypothesis of ultimate reality.

Each theory can have its time to be real, to be a "best fit" within a larger intellectual ecosystem, without having to live forever. The electron as particle and the nebula as explosion have been useful theories. Eventually, there comes a time when it's just time to die.